ONE OF THE MOST FRIGHTENING CONTRIBUTIONS TO

Cinema VII Presents a scan of a photocopy of a booklet long lost (see below for info):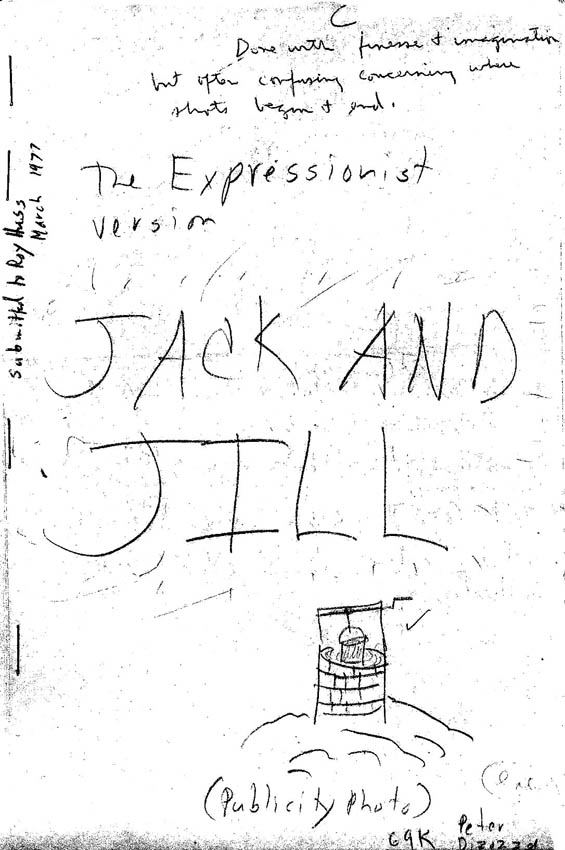 Click on drawing to advance to next...

Background information: Roy Huss taught a Literature and Film class at Queens College which I attended during my first year there. Roy is distinguished beyond assembling some fun film books, particularly one with essays on The Horror Film, because he disappeared during an exploration of Indonesia.

I still remember arriving late to the classroom, carrying my bicycle, thrilled to be submitting the graphic outgrowth of my creative efforts! That little circled word above my name in the lower left corner is his marking. It reads, "late."

Prof. Huss's theory of the cinema stageline --

which he announced was broken to great effect during the tree branch scene in the film, "A Separate Peace" --

led me to develop with Jeff Marino, Jordan Pfister and Sue McCarn in Jeff's film, "Near Involvement, a Close Call for All Concerned,") --

and to describe extensively in the novel, Storm Cloud --

the theory of The Floating Stageline.

The recovery of the Jack and Jill Storyboard occurred as a result of a request for art work displayed by Toby Goodshank during his first Galapagos show in July, 2002. Thank you, Toby!