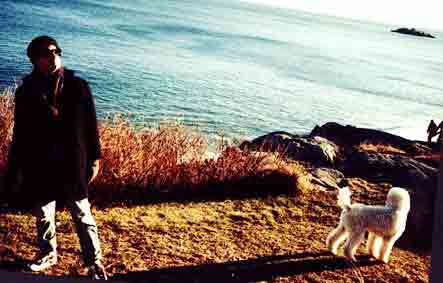 Peter Dizozza
Composer/writer/performer
321 East 12th Street
Apartment #8
New York, NY 10003
(212) 674-2987
This is the bio provided to the Press Agent for EWV's Convertible, June 1998, La MaMa e.t.c..
Peter Dizozza (Composer, Music Director, Performer) and Elizabeth West Versalie (Author, Lyricist) met in 1993. The man who introduced them is the playwright James Bosley (author of the film, "Fun"). Peter and Elizabeth worked on another E.W. Versalie play, "Nothing Personal," for which Peter wrote incidental music, after which they parted company.
In 1996, Peter attended an eye-opening reading of "Nothing Personal" which Elizabeth produced at La Mama La Galleria. Peter returned to the collaboration, this time as Elizabeth's songwriting partner, the results of their efforts being the six character-study songs of "Convertible".
Over the past two years Peter wrote and produced "Prepare to Meet Your Maker" (the resurrection musical), "The Peace Mission," "Shipping the Satellite," "Witchfinders and "Storm Cloud." Many of these shows were directed and choreographed by Tyr Throne with first staged readings at La Mama La Galleria and/or Lach's Fort at Sidewalk.
With tantric terrorists Tyr Throne and Debra Wakefield, he produces multi-media variety extravaganzas heralding the dawn of the Age of Romantic Enlightenment (DARE Shows). He was music director, pianist and co-banterer for "Possession" (1997) and "A Nite of Love" (1996), the one woman cabaret shows of Lisa Dery at Don't Tell Mama. A proponent of Anti-folk, Peter began performing at Lach's Fort at Sidewalk, in January, 1996 resulting in the song cycle, "Pro-Choice on Mental Health." His other shows there include Exploring A Fascination with Things that Spin and The Copellius Concert. With Jerome Rossen, he performs as one half of "The Dueling Pianos."
He wrote song settings for Shakespeare's The Tempest (performed in City parks during the summer of 1991) and As You Like It, as well as for selected poems of Thomas Hardy. He composed a choral score for Neil Ericksen's musical play based on the myth of Atalanta, entitled Legs Like These (Actor's Equity Showcase, One Dream Theatre, 1992). With fellow cabaret artist Margaret O'Hanlon he collaborated on "Infidelity," "Infidelity Reformed," "Tropical Depression" and The Hoagy and Peter Show. He wrote and performed a calypso piece, "A Trip to Bermuda" for Charles Strouse's A.R. Gurney Project as part of the ASCAP Music Theatre Workshop. He was Assistant Conductor on "We Are Innocent," an album of Julius and Ethel Rosenberg letters set by the composer, Leonard Lehrman.
With Maggie DaSilva, he helped to reconstruct the score and present a Backers' Audition for Marc Blitzstein's labor opera, "No For An Answer." He is the author of four novels, Storm Cloud, The Resurrection, Witchfinders and Mark of the Librarian (O.W.L. Press). A native of Forest Hills, New York, he currently resides in the East Village with Public Artist, Faith Palmer-Persen. He received Piano training by Edgar Roberts and George Sahagan and vocal training by Alice Garrett. A Member of the Dramatist Guild, Graduate of the Aaron Copland School of Music (Queens College), St. John's Law School, the BMI Lehman Engel Music Theatre Workshop, and the Landmark Education Self Expression and Leadership Program. Peter Dizozza is a Cinema VII Artist.
Thanks to Ellen Stewart for her inspiration and support. Thank you, gentle reader, for wading through this.