Balletomanes, here it is,
Peter Dizozza's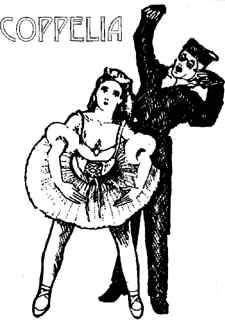 "Surrealist adaptation of the ballet story, featuring that prior-day "Gods & Monstors" maker, the inspiration for Victor Von Frankenstein,
Dr. Coppelius,
and his favorite creation, the lovely mechanical doll,
Coppelia."
Peter Dizozza's Coppelia is unlike any other Coppelia, except perhaps the one in the mind of E.T.A. Hoffmann, author of the story upon which the Delibes' ballet was based.
This theatrical adaptation, introduced at La Mama E.T.C.'s 1998 Reading Series and produced at the Gene Frankel Theatre in 1999 by Marilyn Majeski and the Wing & Prayer Theatre Club, gives voice to Franz and Swanilda, the star-crossed lovers who invade the toyshop of Dr. Coppelius on the eve of their marriage. Because of the doctor's achivements, particularly in creating the mechanical doll, Coppelia, Franz and Swanilda's future of connubial bliss takes an uncharted detour.
At a time when the youths of Olympia choose partners, settle and raise a family, Franz takes a job as the Doctor's assistant. The work occupies him through all hours of the day, so he moves into the toyshop, leaving Swanilda to fend for herself in a world .
Even when the king provides the incentive of a bag of gold to all the couples who would marry on the morrow, Franz remains a bachelor, committed to his work, because, in addition to being an escape from social interaction, toymaking satisfies his sexual desire.
Franz may be a lost cause, but Swanilda formulates a plan around his and Dr. Coppelius' ritualistic activities.
History
Coppelia is an adaptation of "The Sandman," a story written by the German Romanticist, E.T.A. Hoffman, almost 200 years ago. The ballet, with music by Leo Delibes, first performed over 100 years ago in Paris, was choreographed by Arthur Saint-Leon, ballet master of the Paris Opera at the time.
Over the years there have been many different productions of Coppelia all over the world.
The play, as a staged reading, was directed by Marilyn Majeski and first performed as part of La Mama E.T.C.'s reading series, New Voices, New Works at La Mama La Galleria in NYC's East Village on November 21st, 1998. The cast featured Rebecca Emery, Christopher Gambino, Denise Pospisil, Stephen Rosenberg and Tommy Sweeney.

To quote from one description, this humorous story takes place in the storybook village of Olympia in Southern Poland. It's about a clever young girl named Swanilda, her silly boyfriend (Franz), a beautiful mechanical doll (Coppelia), and a funny old toymaker (Dr. Coppelius), who dreams of making a doll who would come to life.
Ballet Synopsis
Act 1
The story opens in the village square of Olympia. Dr. Coppelius's daughter, Coppelia, is seated on the balcony of his house, posed as if she were reading a book. Swanilda enters the square and sees Coppelia on the balcony. She is curious about this new girl, especially since all the boys seem to like her so much. Swanilda tries to get Coppelia's attention by waving and dancing and calling to her but the doll does not even look up from her book. Swanilda thinks this is very rude and is ready to storm from the square when she hears footsteps and decides to hide instead.
Franz then comes into the square and seeing Coppelia on the balcony, starts to flirt and show off for her. She doesn't respond, of course, but when he blows her a kiss, the doll seems to rise and nod to him. Franz doesn't know it but Swanilda has been watching the whole time. She goes away mad but then reappears chasing a butterfly, pretending she didn't see a thing. Franz catches the butterfly and pins it to his vest. Swanilda gets very angry and bursts into tears, telling Franz he must not love her anymore since he only seems interested in the girl on the balcony.
Their argument is interrupted when other villagers come into the square for a group dance. Franz makes matters worse by joining them and dancing with some of the other girls. While they are dancing, the Mayor of the town shows up to announce a celebration in honor of the town's new bell. He also promises a bag of gold to all couples who will marry on that day. The Mayor asks Swanilda if she and Franz will be among the lucky couples and she tells him that she doesn't think Franz loves her anymore. He suggests the old custom of shaking a stalk of wheat to hear the special sound that will tell her that Franz still loves her. Everyone gathers around, but to their surprise, Swanilda hears nothing. Franz, of course, just laughs it off.
Swanilda is angry. She throws down the stalk of wheat and runs off. She dances with her girlfriends, avoiding Franz and pretending she doesn't care. He tries to get her attention, but she acts like she doesn't need him anymore. Franz then dances with another girl to make her jealous. He likes Swanilda, but he's interested in the beautiful Coppelia, too.
As evening falls, old Dr. Coppelius leaves his house to go to the tavern. Along the way he is teased by some of the village boys, and in the confusion he drops his key. Swanilda finds the key, and she and her friends decide to explore the workshop and find the mysterious girl from the balcony. Dr. Coppelius realizes he lost the key, returns home to find his door open and rushes upstairs to see who has broken in. As the curtain falls, Franz returns and starts to climb up to the balcony to meet the beautiful Coppelia.
---
Act II
Swanilda and her friends tiptoe into Dr. Coppelius's workshop to find several large figures dressed in strange clothes. Swanilda looks behind a curtain and finds Coppelia sitting in a chair, still reading her book. She tries to talk to her but gets no response, even though her eyes are wide open. After tugging on her dress and shaking her and still getting no response, they realize that Coppelia is nothing more than a life-sized mechanical doll. They all find this very amusing, especially when they think of poor Franz blowing kisses to a doll. They then set all of the dolls in motion and have a great time dancing around with them.
Suddenly, Dr. Coppelius comes in to the workshop, and the girls all scatter in different directions...all except Swanilda, who hides behind the curtain with the doll. Just when things calm down, Franz enters the workshop through the window to look for his lovely Coppelia. Dr. Coppelius catches him but when Franz explains that he is in love with Coppelia, the old man realizes he can use Franz for his greatest experiment. He puts Franz into a deep sleep with drugged wine and finds a magic spell that will transfer Franz's life force into the doll.
In the meantime, the clever Swanilda has put on Coppelia's clothes and taken her place behind the curtain. Dr. Coppelius wheels her out, thinking it is his beautiful doll, and casts his magic spells. Swanilda, dressed as Coppelia, begins to move. She dances, like a robot at first, but then more and more like a real live girl. Dr. Coppelius is thrilled that his creation has come to life, and his delight increases as she dances for him, following his every direction.
Swanilda soon grows tired of the game, anxious to wake Franz and escape. She begins to tease the old man, dancing wildly around the workshop. She eventually wakes Franz and they show him the real Coppelia still sitting behind the curtain. Dr. Coppelius realizes how he has been fooled. Swanilda and Franz run laughing from the workshop, leaving the heartbroken old man alone with his lifeless doll.
---
Act III
The next day, during the celebration for the new bell, the couples to be married, including Franz and Swanilda, receive their bags of gold. Dr. Coppelius bursts into the square and demands to be paid for the damage done to his workshop by Swanilda and her friends. Swanilda offers him her bag of gold, but the Mayor says no and gives Dr. Coppelius another bag of gold so that everyone can be happy on this joyous occasion. The whole village then joins in the dancing to celebrate the marriage of Swanilda and Franz.

The End
THE COPPELIA PROGRAM of November 21st, 1998
THE CAST
REBECCA EMERY (Swanilda) is pleased to once again be performing under the auspices of the warm womb of Cinema VII. Her recent role during the run of the epic Storm Cloud as Lynn (also a Cinema VII production) marked her return to the stage after a three year self-imposed exile following the infamous Puppy Debacle which occurred during her fleeting one week stand at Cats. Before that she performed as a tree and rock (simultaneously) in her one woman tour-de-force "Tree and Rock." Having grown up in an entertainment family (who can forget the Dancing Emerys?) she has been on and off stage, screen, and radio for longer than most of us have been born, and shall continue long after the rest of us shall die.
DENISE POSPISIL (Narrator/Coppelia) moved to N.Y.C. from California to attend the American Musical and Dramatic Academy. After finishing her studies she performed with Disney (Tokyo/Orlando/Anaheim). Her acting credits include: "All My Children" (Wendy Zembruski), stage production of "King Arthur" (as Guinevere), and several commercials, industrials and student films. She is currently performing at the Grove Street Playhouse as 'Sleeping Beauty' and 'Gretel' ("Hansel and Gretel").
TOMMY SWEENEY (Drosselmeir) is a graduate of the New York Academy of Theatrical Arts (Acting) and the School of Visual Arts (Film). He has appeared in "Death Takes a Holiday" ('Death'), He has also appeared in the feature films, "Landlord," "Pursuit," "New York Vampire," (Lead) and "Naked Fear" (Lead).
STEPHEN ROSENBERG (Dr. Coppelius) began performing as a teenager, when he appeared in the Broadway musical ROZA. After graduating from Vassar College and daylighting for a short stint as a small-town banker, Stephen donned a pink jumpsuit to entertain children all over the country as Wilbur the pig in Theatreworks/USA's CHARLOTTE'S WEB. Locally, Stephen has been seen at Expanded Arts in Q&A, and as Giuseppe Zangara in ASSASSINS for the Gallery Players of Brooklyn. He is "doll-lighted" to be working on this reading of COPPELIA.
CHRISTOPHER GAMBINO (Franz) attended Montclair State University and the American Academy of Dramatic Arts. He is currently training at The New York Performance Works. His most recent credits include Prince Mario at the Grove Street Play House and an evening of one acts at the Producers Club.
MARILYN MAJESKI (Director) began her theatrical career as a small child. Over the years she has worked professionally as an actress, director, costume designer, set designer, stage manager, and even as a lighting designer! As a playwright, she has penned nine full-length plays to date and has several others in the works. She received her B.A. in Drama from Vassar College and completed internships at the Williamstown Theatre Festival and the New Jersey Shakespeare Festival. She became General Manager of the Courtyard Playhouse at the age of 24, thus becoming the youngest theatre manager in the city. In 1995, she became Artistic Director of the theatre and founded the 501(c)3. not-for-profit corporation known as The Grove Street Playhouse. Her children's theatre program, Miss Majesty's Lollipop Playhouse, is one of the most successful children's theatres in New York City. Marilyn directed and produced more than 100 productions. She thanks God every day for her tremendous good fortune.
PETER DIZOZZA (Author) founded Cinema VII. Other Galleria readings include the resurrection musical, "Prepare to Meet Your Maker," "Peace Mission," "Storm Cloud" and "Witchfinders." He contributed music to E.W. Versalie's "Convertible,"&"Cardboard Windows". He's at the piano with Sara, Sandra and Nicolle, the Women of Rock and Roll, Sundays, 8-12, at Caffe San Marco (221 Waverly Place.). Next live performance: December 27, piano nite, 8-9 at Lach's Fort at Sidewalk, 94 Ave. A. He thanks Michael Straub, for introducing him to Marilyn Majeski; and Marilyn, for bringing life to this doll script.
NOTES on COPPELIA:
I wrote this play to alleviate conflict between collaboration and solitude.
Ernst Theodor-Wilhelm Amadeus (E.T.A.) Hoffmann (1776-1822) is the author of the story, The Sandman, which inspired the Delibes ballet Coppelia, which inspires this evening's play.
E.T.A. Hoffmann is a character in Tales of Hoffmann, the Offenbach opera, which includes, among his love interests, Olympia, a mechanical doll.
Prior Coppelia Readers: Sara Carbone, Nicolle O'Neill, Dave Wechsler, Lach, Michael Pace, Donna Maddy and Faith Palmer-Persen.
Creative Coppelia Consultants: Colette Bryce, Doris DelCastillo, Stephen Rosenberg, Jon Berger & Chris West.
Thank you for your support, Ellen Stewart, Beverly Petty & Merry Geng of La Mama E.T.C..
Planned readings for the 1999 season: The Eleventh Hour and the revised Storm Cloud.
La Mama La Galleria
6 East First Street (between 2nd Avenue and Bowery)
Saturday Evening, November 21st, 1998, 7:30-8:45

PETER DIZOZZA
COPPELIA
DIRECTED BY MARILYN MAJESKI

Characters in order of appearance:

Narrator/Coppelia - Denise Pospisil
Swanilda - Rebecca Emery
Doctor Coppelius - Stephen Rosenberg
Franz - Christopher Gambino
Drosselmeir - Tommy Sweeney

EPISODES
(Links are to the Majestic Production at the Gene Frankel Theater)
The Coppelius Concert
Valley of the Dolls
Beyond the Valley of the Dolls

Village of the Sun
Voices of Coppelia
The Last Masquerade
__________________
From Cinema vii
Text published by O.W.L. Press