STEVE ESPINOLA!
Singer/Songwriter/Pianist/Performer seen below to the right of Mystery Band Collaborator, Dan Emery.
https://www.facebook.com/ steve.espinola.music/
http://paleophone.net/
One of the great albums is his collaboration with with Alex Wolf: Lifeaphobia
Steve's website is at: http://paleophone.net/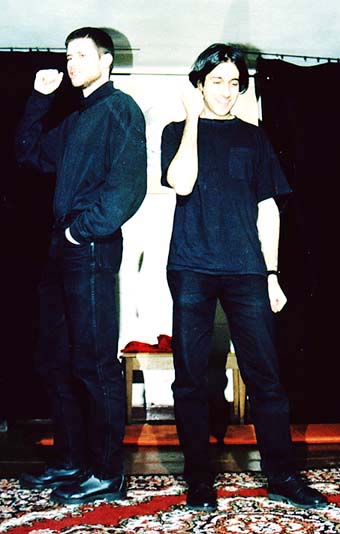 His recordings prove that the height of production value is craftsmanship.
Steve's live radio concert with Raul Rothblatt on WFMU (Irene Trudel's show, 9/10) has been archived. Listen any time: at http://www.wfmu.org/Playlists/Irene/irene.010910.html.
Another Steve Espinola website includes work that serves as an argument in favor of the program, FLASH!
A Return to the Galaxy: