The Painting by Terrance Lindall, July 2002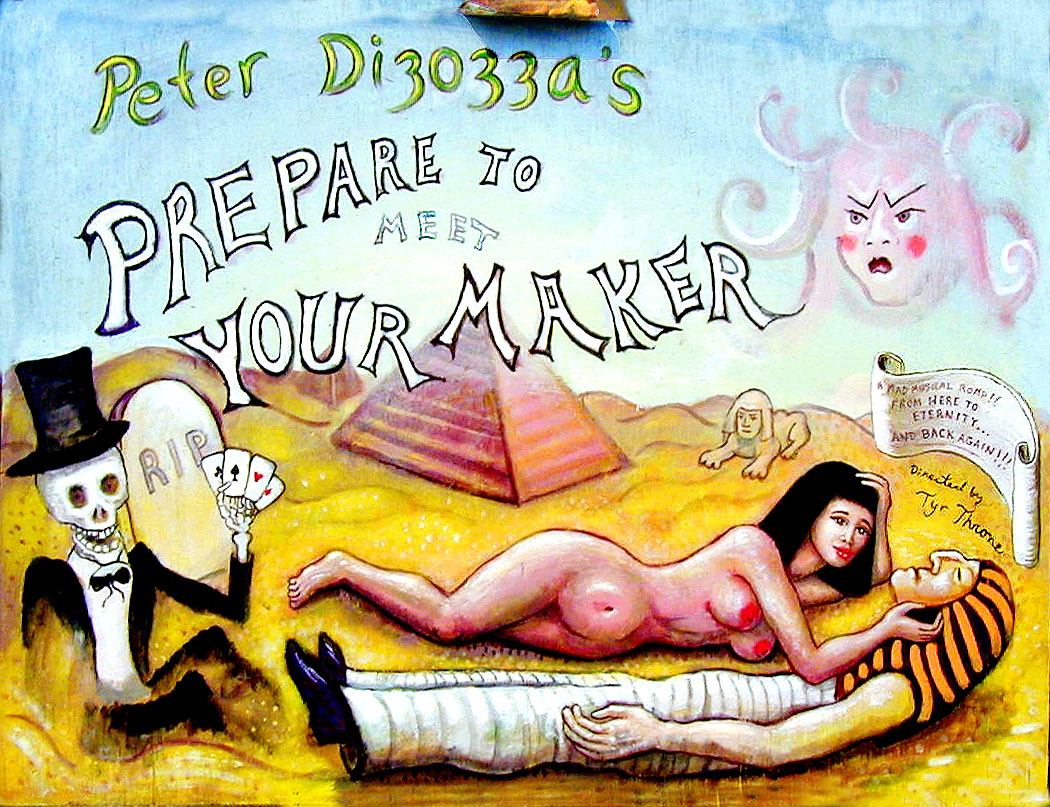 Soundtrack Recordings of
Prepare to Meet Your Maker
The surrealist musical mystery play by Peter Dizozza
Performed by The Porter's Union, (Kenny Davidsen, John Kessel, Brian Wayne Warschum)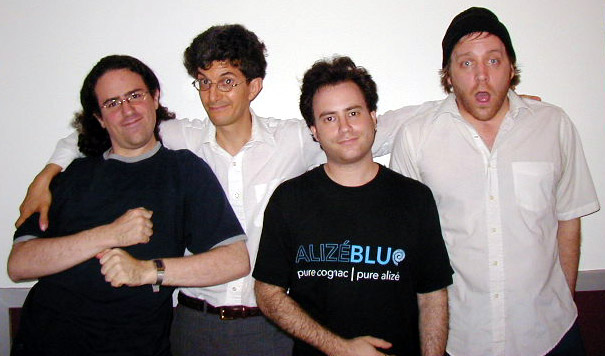 with Tony Hightower, Meghan Elizabeth Burns and Members of the Original Casts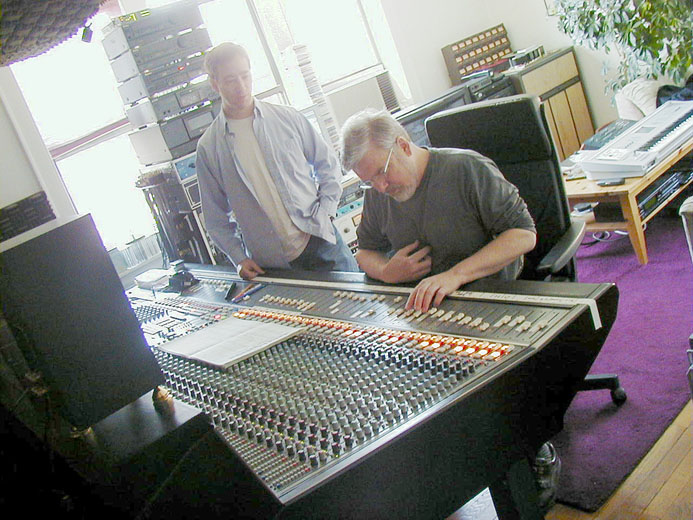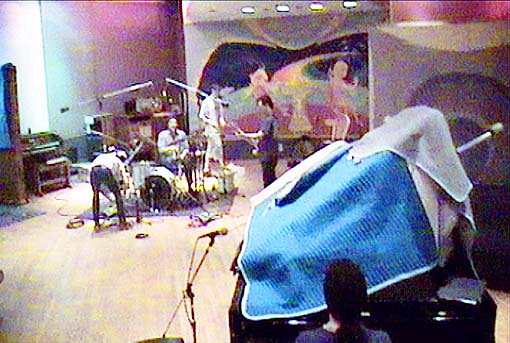 Cinema VII in association with The Williamsburg Art and Historical Center
Presents
Prepare to Meet Your Maker
Concept, Book, Music and Lyrics by Peter Dizozza
Directed and Choreographed by Tyr Throne
Musical Director: Kenny Davidsen
With The Porter's Union
Kenny Davidsen Piano, Keyboard & Voice
John Kessel Guitar, Bass & Voice
Brian Wayne (Wurshum) Percussion & Voyce
Featuring
Tony Hightower – Lead Voice, Chorus
Meghan Elizabeth Burns – Lead Voice, Chorus
Linda Kobylinski – Lead Voice, Chorus
Lauren Barret Porter – Lead Voice, Chorus
Laurel Hoffman – Lead Voyce, Chorus
Kimberly Mossel -- Chorus
Erika Belle -- Chorus
Peter Dizozza – Chorus, keyboard
Amy-Jo Mikiel – Voice Over
Diana Dunphy – Voice Over
Drew Blood – Voice Over
1. Dance of the Seven Veils
2. Cementeria (Be Well with the World)
3. Castle Waltz
4. Mountain Casino (The Overlord of the Ordered World)
5. Hang My Head
6. Castle Waltz Reprise
7. Think Big
8. Two Lovers on Tomorrow's Road
9. Meet Your Makers
10. Model
11. The Cage is Chilly
12. The Cage is Chilly Reprise
13. So Put Me Away
14. Strong for the Man
15. Strong Dialogue
16. Strong Reprise
17. Welcome to Alexandria
18. Set's Song (Calling to You)
19. Isis
20. Peace Which Passeth
21. Burn in the Inferno (Creamatoria)
22. Burn in the Inferno End Line
23. Peace Which Passeth/Wish a Word
These recordings are based upon the revival mounted for the Williamsburg Art and Historical Center's Apocalypse '99 Exhibition, Yuko Nii, founder & Artistic Director, Terrence Lindell, President, further developed at Baby Jupiter and The Manhattan Theatre Source.
This project originated on a Strange Folk Sunday at Lach's Fort at SideWalk on July 14, 1996 and developed at Corinne Colon's Culinary Loft, the Looking Glass Theatre, 22 Below, La MaMa E.T.C.'s La Galleria and at the Throne Dance Theatre.
Additional Script & Score Credits:
Troy Acree: Creative Consultant
Colette Bryce: Creative Consultant
Kenny Davidsen/John Kessel/Brian Wayne: Band Arrangements
Lisa Dery: co-lyricist "Think Big"/Creative Consultant
Dan Emery: co-composer "Calling to You"
Tyr Throne: Director/Creative Consultant
Recorded at Alan Selby's Electric Lady Studio A, and recorded and mixed at Alex Abrash's Burns Street Studios, by Alex Abrash, David Baker and Peter Dizozza
Thank you, other cast & band members, Linus Gelber, Lisa Shred (Sredniawski), Christopher West, Alison Byers, Zane Campbell, Jamie Cosnowsky, Steve Espinola, Maki Fujita, Charles Herold, Beth Sacks, Debra Wakefield, Kerrigan Webb, Andrew Uhlenhopp, Chris Chalfant, Chris West, Sam Ferrel, Mami Kimura, Andre Johnson, Little Oscar, Dan Killian, Mayuko Minami, Rhiannon Erbach, RonnieJane Gannascoli.
Mediterranean painting by Faith Palmer-Persen. Original prop designs by Mark Napier. Original Production Photographer Robert Strain. Videotape of the Baby Jupiter Stage Production by Debra Wakefield with Mike Perrazetti
.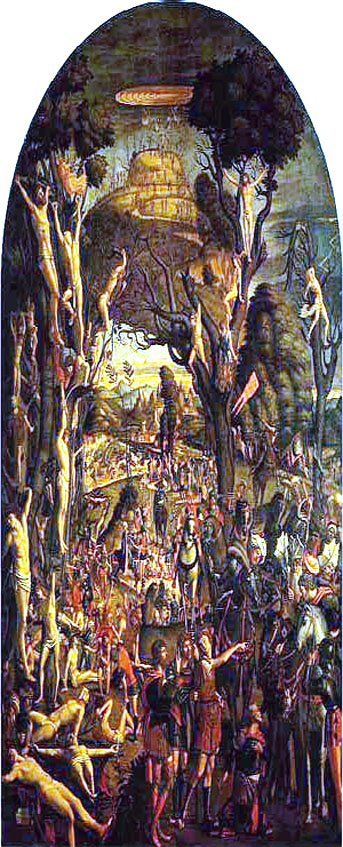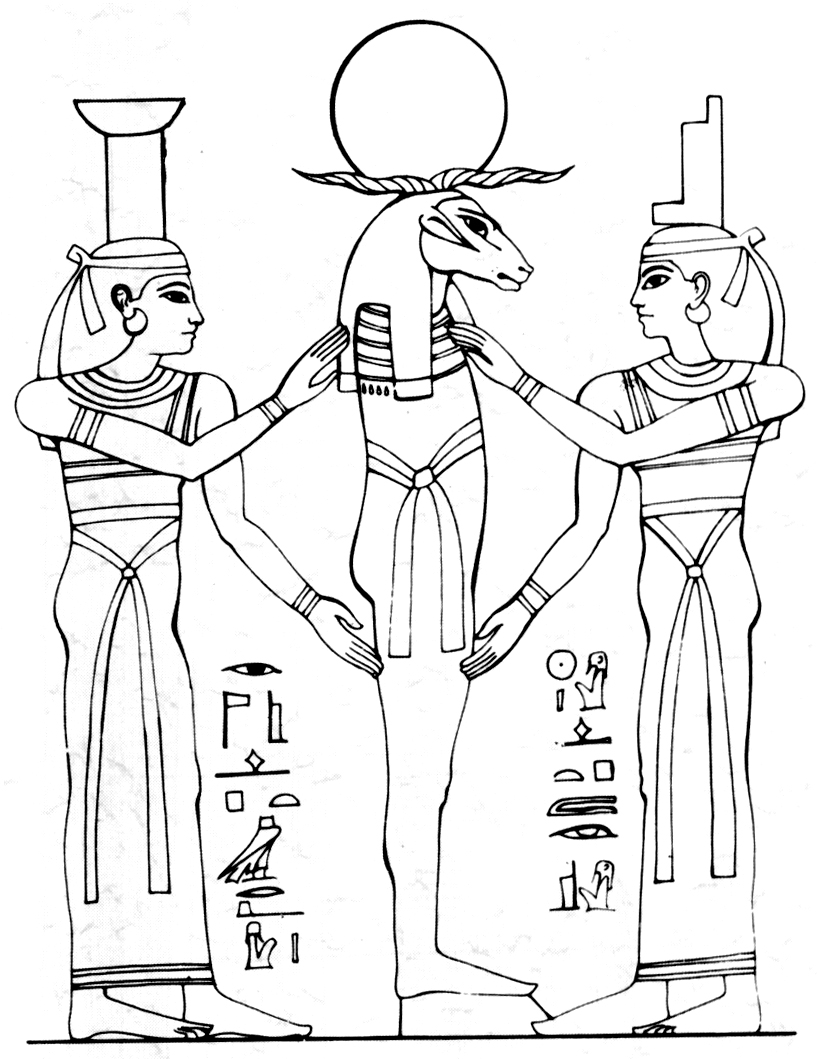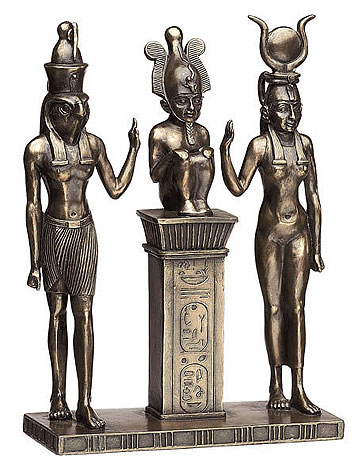 A Cinema VII Production, June 2002
From an email: The CD includes the 13 songs and some incidental music with dialogue. We're working on packaging that will fold out like the opening of Pearly Gates (some of the musical takes place within a pearly gated community where the guard at the door asks, have you been to the baptist?). The songs are progressive folk rock, though the 13 songs run between 2 and 4 minutes each and I think of prog rock as more sprawling. They have an element of pop rock in that the songs are memorable; they are, to coin a phrase, loony pop. The musical material is varied. Toward the middle the score has a Bacharach inspired section, particularly "Two Lovers on Tomorrow's Road" and the title track, "Meet Your Makers." The CD fits under a header, "general/outrageous entertainment," as there is to be found outrage as well as redemption in the material's content.
Return to Prepare to Meet Your Maker Project Page