BASIC SPOILER: The 8 chapter novel, Storm Cloud by Peter Dizozza, 1979, concerns the passive/aggressive acts of underground filmmakers Kevin Vargas and Luis Souiel. Years after their creative collaboration ended, they gained recognition for their innovative camerawork, a mixed blessing since one of their otherwise forgotten films languishing in obscurity documented a murder they, albeit "accidentally," committed.
Philip and Marie, a star-struck couple from the town of New Latax attach themselves to the new celebrities and inadvertently assist in exposing their crime.
Kevin Vargas, one of the filmmakers, has this to say:
"Spend a week at the Clairol Hotel in the City of Dieledon to receive a Pyramid Award for meritorious achievement in cinema? I'm there. No matter that my filmmaking years are behind me and the best one contains the evidence needed to convict me of murder. With my best friend/wife by my side, our dreamland son being raised by her parents in an Adirolf retirement community, and me directing the tourist pageant that reopens the Beledon Theatre, I'm too busy to address it. Then I'm suddenly called away from my job to fly to the Miriam Peninsula to find my collaborator and bring him back to Dieledon in time for the awards.
"It's always something that takes attention away from me.
"Well, I love to travel, and on this occasion I'll take along that pleasant Beledon page boy, Philip as my secretary, my amanuensis, if you will..."
(This is the book where a suicide pilot flies a plane into the Plaza Hotel.)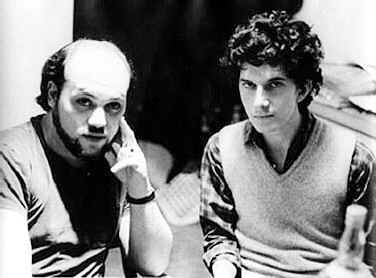 Storm Cloud Decryption Document link?
Louis Filosa and Peter Dizozza pose as underground filmmakers Luis Souiel and Kevin Vargas for photographer Mary Robinson in 1983.
On March 28, 1998, La MaMa's La Galleria hosted a performance of the first 4 of the 8 chapters, adapted with the assistance of Charle Herold.
Related songs: Storm Cloud, Pigeon Head, Crowded Avenue.
Related writings: Storm Cloud Description/Decryption & La Nuage Noir (a short story).
Click here for the 1998 web page on the subject.