THE ELEVENTH HOUR, a ghost story by Peter Dizozza
Cockroach Bernstein's description of the December 30th, 2001 Performance:
"The Eleventh Hour" a Peter Dizozza production
Staring Toby Goodshank, Kimya Dawson, Abbey Soft, and
Me... as the ghost of a thirteen year old boy who
lures young Goodshank into a sordid web of sex and
psychosis. Enjoy.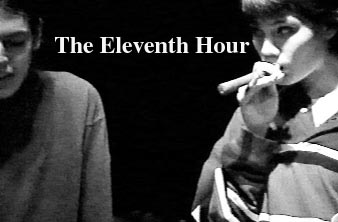 The Eleventh Hour is an intimate adolescent ghost story set to a lush romantic score (The inspiration and outline to the story is a reordered listening of Bacharach/David's Soundtrack album of the Ross Hunter/Larry Kramer 1973 film version of Frank Capra's film of James Hilton's novel "Lost Horizon.")
There are three versions of "The Eleventh Hour,"
the March 1999 submission to La MaMa E.T.C.'s reading series,
the recently discovered original short story, from 1974,
and the March, 2002, adaptation by director John Seroff.

"THE ELEVENTH HOUR"
Play by Peter Dizozza Directed by John Seroff
Fri & Sat. Mar. 15, 16, 22 & 23, 2002 -- 8:00 P.M. Admiss. $6
It tells the story of two boys, one, a ghost, tempting the other to join him. It had a sold-out run on the third floor of the WAH Center -- Theatre Wing.
Jennifer Stuckert is Mark -- Zack Bonnie (Xaq) is The Narrator -- Nadja Stokes is Eric -- Beth Benjamin is Pam -- Gabrielle Maisels is Sharon -- Christina Amendolia and Helene Senechal are The Ghosts of the Imagination -- John Seroff adapts and directs!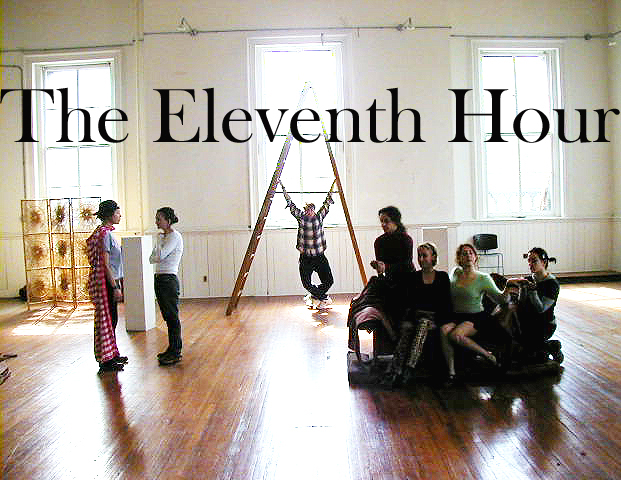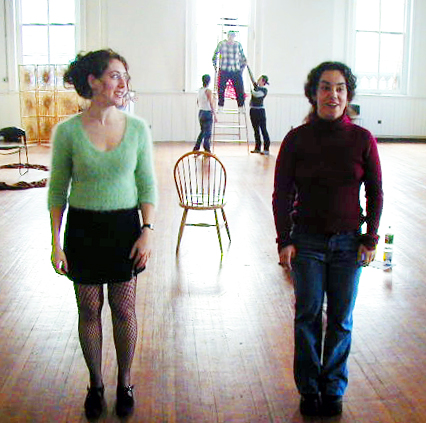 View stills from the Second Performance with Rick Gray, Cheryl LaRosa, Jeff Lewis, Shannon Foley and Samona Shearson! -- Cast Info
View stills from the Fourth Performance, THE MUSICAL, with Richard Anthony, Toby Goodshank, Cockroach, Abbey Valdez and Kimya Dawson. The flyer below describes it well...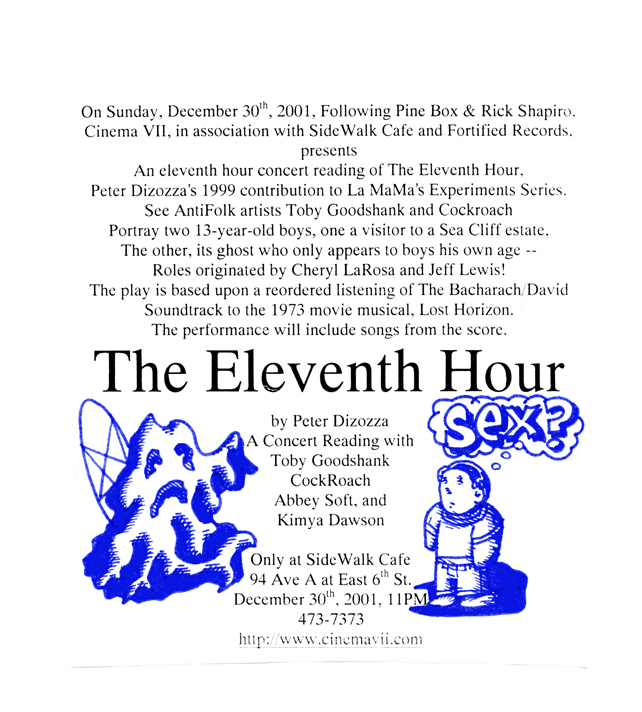 Other stills of that spectacular WAH Center Cast, March 2002.