THE LAST DODO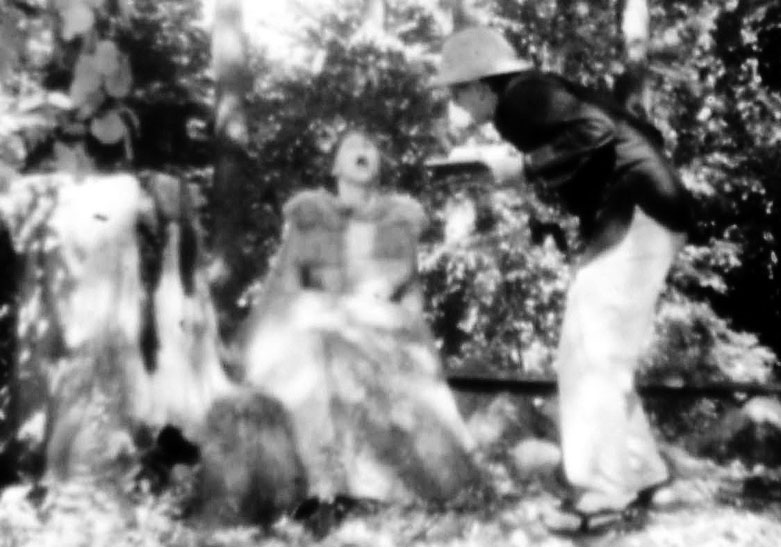 Script and Score by Peter Dizozza
Originated in 1995 as a story outline inspired by Robert Clampett's Porky in Wackyland
Completed for La Mama's Experiments '00 Reading Series, April 15, 2000
Three performances at Trudy Silver's 5C Cultural Center in July, 2000
Two Performances at the Williamsburg Art and Historic Center, October, 2000
Performance at the Throne Dance Theatre, December 2000
Performance at the Manhattan Theatre Source, January 28, 2001
12 Performances at Baby Jupiter, February - April, 2001
Lensing Commenced June of 2001 -- The Last Dodo 59 Minute Movie and The Last Dodo 80 Minute Photoplay

The Last Dodo Soundtrack
Title Duration Vocalists
1. Fhatari 1** 3:35 Instrumental
2. Out of My Mind 2:28 Jeneen Terrana
3. Let It Go 2:34 Jeneen & Tony Hightower
4. Private Land (Wacky Version)* 1:34 Instrumental
5. Kill Me Now 1:58 Kimberly Mossel & Aashish Pathak
6. Private Land 2:30 Ensemble
7. My Partner 3:03 Jeneen
8. Give A Life 3:40 Tony
9. Blade Field 1:50 Instrumental
10. Bok Choi 3:26 Ensemble
11. Fhatari 2 ** 3:48 Instrumental
12. Bonus Track, My Partner 3:03 Genia Michaela
Produced by Aashish Pathak except
* Produced by David Dragov, and
** Midi File
The Last Dodo premiered at the Williamsburg Art and Historic (WAH) Center in October, 2000 after readings at La Mama's Experiments '00 Reading Series and The 5C Cultural Center. Following previews at The Throne Dance Theatre and Manhattan Theatre Source, it ran for 13 performances at Baby Jupiter between February and April, 2001. Cast members: Laurie Bannister, Dawn Cherie, Diane Cluck, Christian Desmond, Dan Diggles, Michael Draper, Stephen Espinola, Rebecca Feldman, Linus Gelber, Tony Hightower, Jorjeana Marie, Amy-Jo Mikiel, Kimberly Morris, Kimberly Mossel, Aashish Pathak, Margaret Price, George Raheem Ramos, Grey Revell, John Seroff, Ray Shiel, Fred Spadafora, & Tyr Throne.
Make-up, Costumes, Props and Set Design by Patricia Grace. Choreography by Meghan Elizabeth Burns
Script consultants: Laurie Bannister, Christiane Famini, Tony Hightower, Linus Gelber, Kimberly Mossel, Robyn Hussa and Monica Russell. Thanks also to Kenny Davidsen, Sharon Fogarty and Jason Grossman. Filming commenced June, 2001. Director of Photography: Valentina Camiglia. Copyright 2000, Cinema VII.
Buy the Soundtrack produced by Aashish Pathak!
Onto DodoWorld!

Back Stage October 6, 2000




Copyright 2000 Gale Group, Inc.
ASAP
Copyright 2000 BPI Communications, Inc.
Back Stage
October 6, 2000


SECTION: No. 40, Vol. 41; Pg. 20 ; ISSN: 0005-3635

IAC-ACC-NO: 66172000

LENGTH: 106 words

HEADLINE: "THE LAST DODO," MUS'L.

BODY:
10/7 from 6-8PM at Throne Dance Theatre, Loft #203, 138 Duane St., NYC.

Casting for "The Last Dodo," a musical written and directed by Peter

Dizozza.

Satire rising to the level of surrealism. Seeking actors/singers--Safari Guide: principal, swarthy, mysterious; Explorer: principal, wealthy New Yorker (circa 1900s); Dodo: principal, outrageous charismatic creature from Nile oasis. Some performance pay. Auditions will be held Sat. Oct. 7 from 6-8PM at Throne Dance Theatre, Loft #203, 138 Duane St. (btwn. W. B'way & Church St., 2 bl north of Chambers), NYC. For more information call (917) 822-7974 or (212) 406-2243.

IAC-CREATE-DATE: October 19, 2000



Daily News (New York) October 20, 2000, Friday




Copyright 2000 Daily News, L.P.
Daily News (New York)
October 20, 2000, Friday SPORTS FINAL EDITION


SECTION: NEW YORK NOW; Pg. 87

LENGTH: 1343 words

HEADLINE: TODAY IN NEW YORK

BYLINE: BY SHARON KING

BODY:

RARITY RESCUE

* A safari hunter from New York changes history and saves the dodo bird from extinction in Peter Dizozza's quirky multimedia musical play "Last Dodo." 8 p.m., $10. WAH Center, 135 Broadway, via J,M,Z to Marcy Ave.; (718) 486-7372.
----------------------

oh, and Here's what I want it to sound like!!!