Time Out New York, Issue #143
"Pistol-whipped: At La MaMa, the cast of Convertible does it with the top down."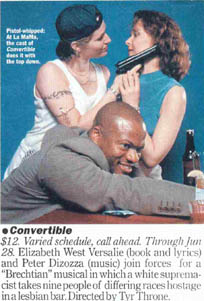 ----->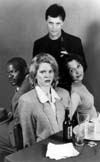 Greetings, Convertible Fans!
In the ten performances at the main stage of La Mama E.T.C. during the latter half of June, 1998, over three hundred people were in attendance and during the second weekend audiences doubled. Read the thumbs up review from Buzz NY -- when I find it, now that the outside link is gone! Found it.
Convertible ran at La Mama E.T.C.'s main stage from June 18th to June 28th.
Premiered at La Mama La Galleria, 1998.
"Convertible" is a funny and fiery musical play attacking American racism. Set in an East Village bar, a young woman coming of age meets a famous TV news journalist, who is in the midst of exposing a racist terrorist. Story, book and Lyrics by Elizabeth West Versalie
Music by Peter Dizozza
Directed and Choreographed by Tyr Throne.
It's a coming of age story . . ..
From the text: "You're at the Convertible. A women's bar."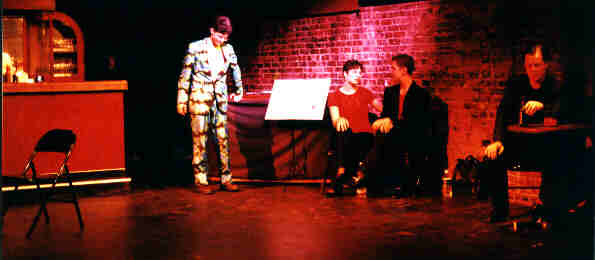 cast:
Michael A. Ballos*, Lisa Dery, Peter Dizozza,
Kate Lunsford, Pamela Lehman*, Case Murphy,
J.R. Robinson*, Cody Smolik*, Cezar Williams
Peter's Suit by Erika Belle
* Actors' Equity Approved Showcase

Time Out New York Photo by Jonathan Slaff
For a link to Jonathan Slaff's press release, click here.
I finally found the "thumbs up" review of David Fisco posted at the former buzznyc.com.
The Songs (recorded by Dave Wechsler with Michael Ballos and Catherine Russell)
Penny's Movement
Lucy's Swing
Suzanne's Plie
Shell's Variations
Herc's Lullaby ("Concentrate")
The Dance of Being (Finale)
Also by E.W.Versalie with three guitar songs by Peter Dizozza: Cardboard Windows